In November 2002 the late Carolyn Henry and Ev McDowell, along with several other Myeloma patients, formed a volunteer, non-profit group to support MM patients and their caregivers. Ev is a more than 15 year survivor.

We provide information for patients and their caregivers to better understand the disease and treatment options. By sharing our experiences we provide emotional support to help patients and caregivers cope with the disease and its effects.

A steering committee meets about once a month to plan future meetings, organise special events like the Walk of Champions, Conferences, Awareness Days, Advocacy for Drugs and Advocacy for a Myeloma Clinic, etc.

At our meetings we provide presentations and discussions on various aspects of Multiple Myeloma. Meetings are held on Saturday or Sunday in February, April, June, September and November plus a Christmas Lunch in early December. We usually meet at St. Jude's Anglican Church, SW corner Fanshawe and Adelaide, London from 1:30 to 4:00 p.m. Refreshments are provided. Outreach meetings are held once or twice a year outside London.

Who Supports Us

Members
Myeloma Canada

Steering Committee

Ev McDowell, Group Co - Leader
Jeff Parton, Group Co - Leader
Nancy McIntosh, Secretary
Janis Kirby
Dan Childerhose
Mary Corman
Craig Corman
Connie Sargant
Ted Medzon




London wins TEAM award.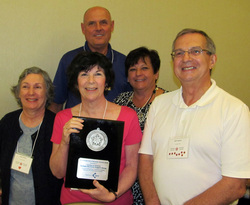 At annual Myeloma Canada Patient, Family and Healthcare Professionals Conference held in Ottawa on July 13, 2013, the London and District Myeloma Support Group received the 2013 Carolyn Henry Memorial TEAM (The Excellence in Advocacy Medal) Award for their outstanding contribution towards advocacy and awareness of multiple myeloma in Canada. This award was initially named the Celgene TEAM Award but last year was renamed the Carolyn Henry Memorial TEAM Award in honour of Carolyn Henry, a Londoner who passed away in October 2011. Carolyn was a tireless advocate for myeloma patients during her 11 years of living with myeloma. She was very involved in advocating for two myeloma drugs which are now funded by the Province of Ontario. Carolyn and several others were the first recipients of this award in 2009. Carolyn along with Ev McDowell co-founded the London support group in 2002 and the group has been involved in advocating for myeloma patients and raising awareness of this disease as well as providing education and offering support to those living with this treatable but incurable disease.


---